Create a Hotel Style Bathroom with Kudos Showers
Believe it or not, it's much easier to achieve a hotel style bathroom in your own home than you might think. The moment you step into a hotel room, after a little bounce on the bed you head straight to investigate the bathroom. Usually adorned with the latest and greatest in bathroom technologies we often leave wishing we were going home to a bathroom even half as elegant and lavish. Sometimes all you need is a little inspiration to help you on your way...
The barely there wet room
A wet room used to be the kind of set up you'd expect to find in the changing rooms of the local leisure centre. However in recent years the wet style room has had a super stylish make over. Many hotels, will have a wet room style bathroom as the look is clean and modern. The sleek floor and wall set up needed is super easy for cleaning too!
Wet room panels create a showering area that is open and spacious. The chic, slim line panels create the illusion of a shower cubicle; whilst providing a walk through space. The Kudos Ultimate2 range has fittings and fixtures in an array of colours ideal for helping to conceal the 'floating' glass panels. With no shower tray to speak of the area blends seamlessly into the background. Choosing dark walls and flooring will instantly add a touch of sophistication and glamour.
Illusion style shower enclosure
Now if you're wanting to make use of every nook and cranny, as even the most expensive of hotels do, then the Pinnacle 8 Kudos range is where you need to look. The brand new range has doors that are designed to be fitted into a recess or corner within the room. A rimless shower enclosure enables this to be fitted to a shower tray, such as a Kudos K Stone or to a wet room system. The clear glass enclosure maximises light exposure and simulates the sensation of showering outdoors. Choose a light marble floor and wall; a technique many hotels stick to, to maximise brightness. Along with its minimalist fixtures and fittings, a cut out handle the Pinnacle8 help to give the room a spacious and bright feeling.
Hotel style bathroom with a tub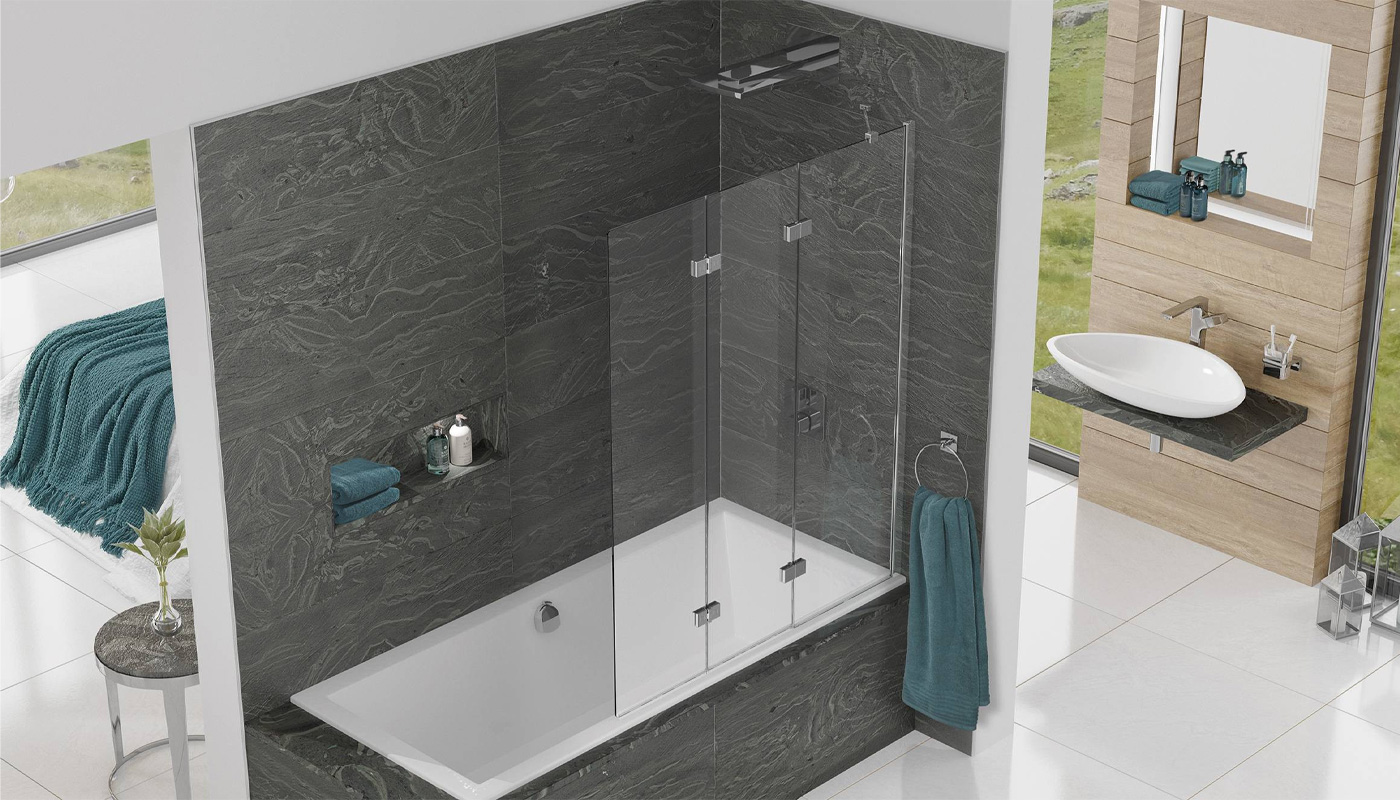 If you're someone who cannot bear to be without a bathtub in your bathroom, fear not! Kudos has a solution for your hotel style bathroom too. Kudos also offer the stunning Inspire bath screen range. Available in either folding or swing styles, to suite any bathroom size. The design follows the Kudos standard with minimalist fixtures and fittings. Hence allowing you to create a decadent and luxurious bathroom. Especially with the addition of a spa style whirlpool which will create that perfect spa hotel style.
Kudos showers are manufactured right in the heart of the Lake District, from start to finish. The innovative designs take inspiration from the beautiful surroundings, so explains why their hotel style shower designs never disappoint. The amazing Kudos products are available on our website with many items in stock and ready to ship.