Space saving ways to get that second toilet!
A home can never have too many toilets! FACT! Not only will the addition of an extra toilet add value to the property but it will also save you from many awkward situations. Can you think of a time where you had a long soak in the tub without being interrupted? A time when the children or your other half hasn't needed to pop in to use the loo? No, we can't either!
This relaxing, spa like experience needn't be the thing of dreams. Adding in an additional toilet, be it in the form of an ensuite or downstairs toilet conversion, can be achieved with very little space.
When shopping around for your bathroom essentials it's important to remember that this new area is just a toilet, so you won't have to factor in storage, heating and all the little extras that are needed in your main bathroom. Simply put...a toilet and sink is really all you need!
saving
basins
Now, this is an instance where bigger isn't better! Remember, the basin in your additional toilet will simply be used for washing hands. No cleaning teeth or having a full body wash here so the smaller the basin, the better it will meet your needs.
Whilst storage isn't something you need to factor in, if you can have some it's an added bonus. The Sonata vanity unit has been made with cloakrooms specifically in mind. The unit is a slim 155mm deep, so forget about keeping all the bathroom essentials in. However, some spare loo roll, soap and a few fluffy hand towels will fit in perfectly. Just remember that you'll need to allow room for the door to open. The petite basin itself bows out from the unit creating an ample space to position hands under the tap.
If floor space is limited, wall hung basins are the way forward. With semi pedestal or bottle trap options, you can choose between a wide array of wall hung basins. The advantage of a wall hung basin is freeing up much needed floor space for the toilet itself. The Tavistock Bathrooms Niche wall hung basin is designed to fit into a corner of the room. The perfect solution to an oddly shaped room. This can be useful if your creating a downstairs loo in a box room.
In addition to the smaller basin, you'll also need a smaller tap! The good news is the majority of those available on Bathroom Supastore also come as a mini version.
Space Saving Toilets
Now it's time to consider the toilet. There are now many different types of toilet available on the market. Gone are the days when you just chose the shape and colour of the close coupled unit. There are now back to wall, wall hung and even vanity unit options. So let's have a look!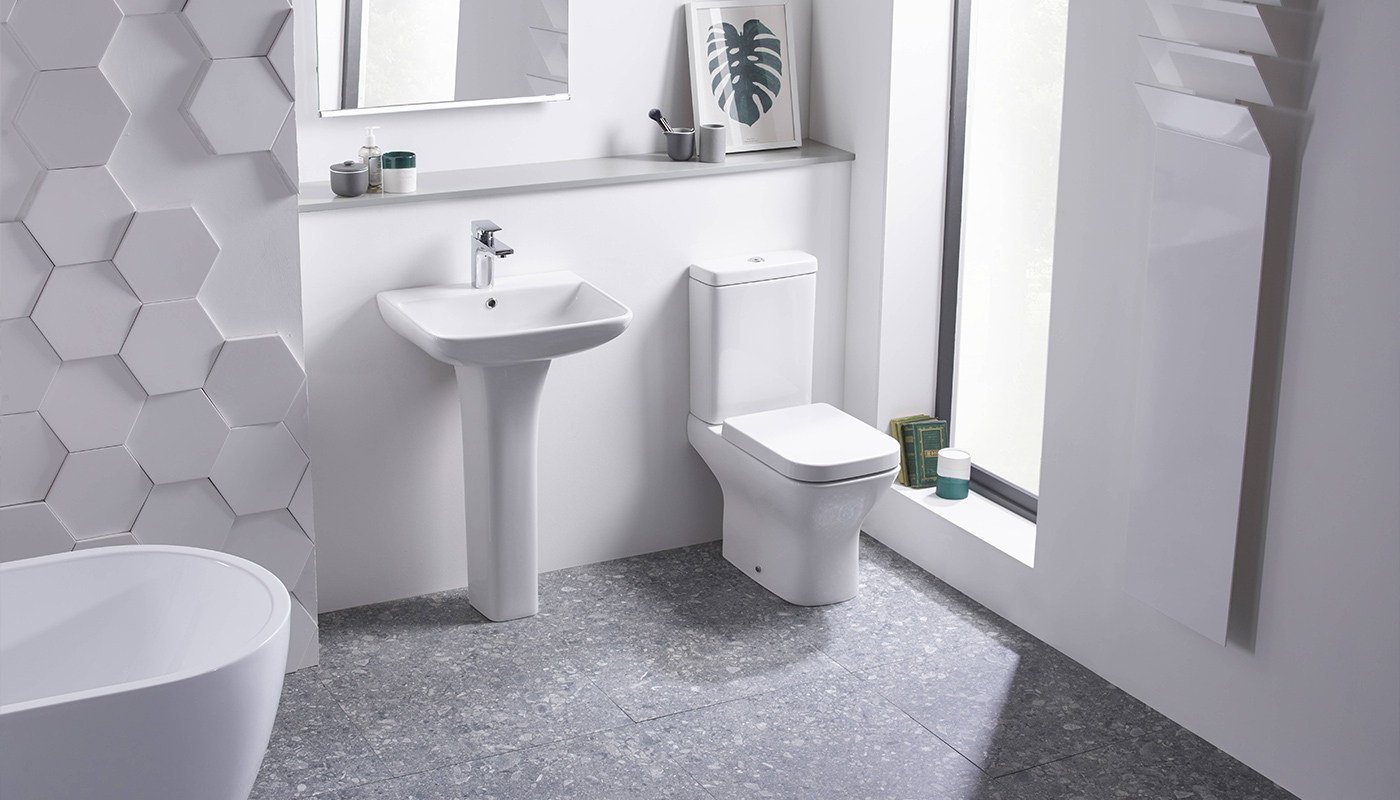 If you're still looking for a classic close coupled toilet, where the cistern is positioned at the back of the pan, this can still work with limited space. It's worth considering a short projection toilet as this means the whole unit doesn't take up as much space. The Tavistock Structure Fully Enclosed Close Coupled Toilet has a projection of just 610mm and is a lovely squared off shape.
Now if you want to hide away your cistern and also give yourself an added bonus of a little shelf, a back to wall toilet is perfect. All that is visible in this set up is the toilet pan. Choose to build a fake wall and hide this away or use a back to wall unit . It also allows you to use either a flat flush plate in a design and colour to match the décor, or make your room high tech with a sensor flush , fancy right!? Choose a short projection pan, such as the Tavistock Bathrooms Micra to save yourself some extra space.
The Ultimate Solution
If your home doesn't allow you enough space to fit even two of the bathroom essentials, then fear not. A combined toilet and basin, is the answer to your prayers. The benefit of this option is only one wall is used up, with space saving in mind, these items are designed specifically for under the stairs or that converted cupboard. Here at Bathroom Supastore we've got not only one but five options for you!
The Athena vanity unit and toilet is the complete package. A sleek vanity unit, that comes in 4 beautiful colours, has a wide yet slim line basin sat atop the unit. The basin has a cut out section designed perfectly for your soap, which is a very clever idea from the manufacturer, Premier. With its concealed cistern the Athena 2 in 1 is a smart choice.
The next option is also a 2 in 1. However, this option is a concealed cistern style toilet rather than a vanity unit. This has a small tap and basin on top of the cistern so is slimmer than the Athena option.
Hopefully the ideas and options in this blog have inspired you to finally get that second toilet. To bring some sort of sanity to your bathroom and make it easier for all those family gatherings.