All you need to know about the various types of showers
There are so many different shower types and designs available today that it can seem like a mind field trying to choose the right style for your bathroom. Gone are the days when a shower was simply an attachment of your bath taps.
There are many things to consider, such as, the design and style of your bathroom as well as making sure the shower fits in its desired location. Do you want an fixed shower head or a handheld? a concealed shower valve or an exposed shower valve. More importantly, you'll want to take into account the water pressure within your home too and who will be using the shower system.
Pro's:
Very inexpensive to buy, can be installed easily, a hot water supply is not needed.
You can keep the temperature dial on your preferred temp, so you won't need to find this every day.
You're not reliant on your boiler to provide you with a nice hot shower.
Can be used in a shower enclosure or over a bath, dependant on your bathroom preferences.
Cons:
Can be costly on the electric bill, that's especially if you opt for a higher Kw option. An electric shower may be worth strong consideration during the the current energy crisis.
Limited design choice. A shower head on an electric shower tend to be the same on every model so you can't get fancy waterfall shower heads or fixed overhead options.
An electric shower is by far one of the most common shower types available. This is down to the simplicity of an electric shower unit. You only need to plumb in a cold water feed to get this working. This means less copper piping work. This type of shower is extremely popular in new builds thanks to their ease of fitting and use.
Also, electric showers work by heating elements up quickly which raise the temperature of the water very fast. This means in the depths of winter however, it can sometimes mean the water is colder as they are warming up. It's important to remember that the higher the KW of the electric shower output, the more electric the unit will consume. However, as this only runs off the cold water supply, it won't require the boiler to function.
Pro's:
Offers a sense of luxury as these mixer showers are typically much more powerful than an electric shower.
You can usually mix and match your shower head and shower valve, to match your bathrooms decor scheme.
Matt black, Chrome or Brushed Brass options.
Can be used in a shower enclosure or over a bath, dependant on your bathroom preferences.
Con's:
If somebody was to draw off the hot water supply while in use this can cause a blast of cold water for whoever is in the shower!
Manual mixer showers are rather simple in design. A Mixer shower can be installed on gravity fed systems (where the water is taken from hot and cold water tank), combination boilers, or on a pump (which also takes water from hot and cold water tank). They work by simply mixing hot and cold water together with water that's generated by the boiler. This is the same way a mixer tap would work anywhere else within the bathroom.
The main downfall of a manual mixer shower is that the hot water supply can drop off and this can sometimes cause a burst of hot or cold water while the waters mix to the desired temperature.
This isn't recommended for family bathrooms as it can be dangerous for children.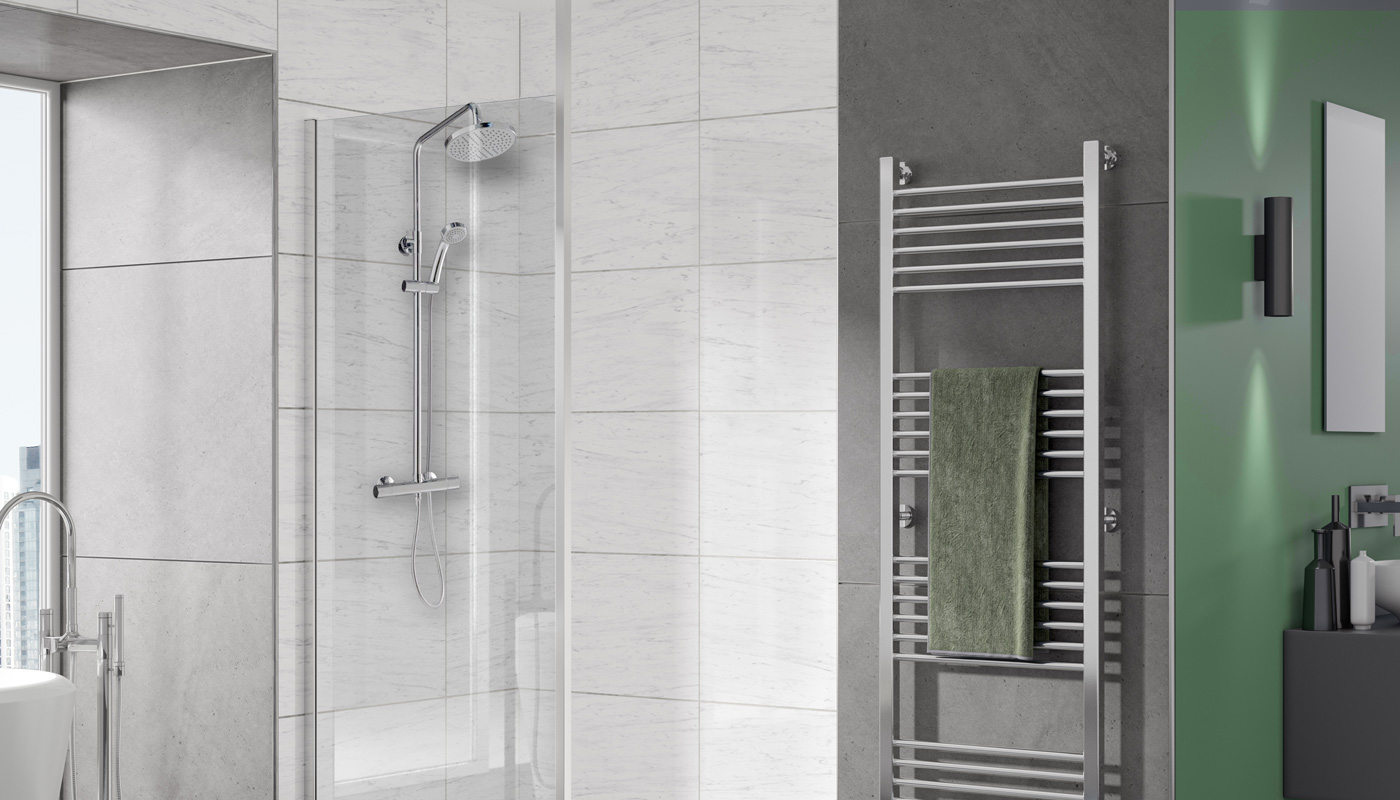 Pro's:
Regulates the water temperature a lot better than standard manual mixer shower.
A shower pump can also be added if you have low water pressure
A lot of design choices. From fixed shower heads to hand held, a riser kit to fixed arm. Matt black, Chrome or Brushed Brass options.
Can be used in shower enclosures or over a bath, dependant on your bathroom preferences.
Con's:
A thermostatic shower valve tends to be slightly more expensive than a normal mixer shower options.
A thermostatic mixer shower is very popular because they're able to regulate water temperature much better than a standard manual mixer shower. If a kitchen tap was run whilst the shower was in use you may feel a slight change of temperature, but nothing like you would with a manual shower mixer. This feature is key in preventing scalding and the unpleasantness of an unexpected cold shower. It's the ideal choice if children will be using the shower.
If your bathroom doesn't have the required water pressure, you can boost this with a shower pump to provide the shower with a much higher flow rate of water.
What shower type do you have in your bathroom? do you even have a bathroom shower? If a new shower is something you're considering, hopefully we have helped you narrow down your perfect shower types from all the different shower types on the market.
Whilst the actual design is important you may need to look at your family's needs first. However, you may find that there are options that cover both style and function when you view the full shower range available on Bathroom Supastore.