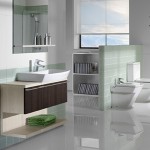 When it comes to your bathroom it is important to plan your style according to your space. Here is a quick guide to help you decide what Bathroom Style could work for you!
Modern Bathroom Styles
Modern bathroom styles offer chic and sophistication with a minimal feel. Using latest designs and innovative technology to create modern and unique spaces. Modern bathrooms can be placed in small and large spaces and with a  variety of bathroom designs. Usually with soft lighting, minimal accessories and select furnishings; such as mirrors  and bespoke feature walls. Colours are used in select spaces either to frame a bathroom piece or a bathroom object. Lighting is cleverly used to create an illusion of space and serenity.
These types of bathrooms particularly work well within modern apartments, minimalistic houses and family spaces.
Typical traits of a modern bathroom
Minimal furnishings
Sleek designs and smooth lines
Reflective surfaces
Latest designs
Soft lighting
Feature walls
---
Contemporary Bathroom Styles
Contemporary bathrooms are usually of cutting edge innovation and bespoke pieces to create minimalistic and sparse spaces. Rooms tend to be full of 'wow' features such as: made to order bathroom pieces, artworks and or creative pieces to deliver a unique space and feel. Often with high-specifications- mirrors, lighting and art can often help the overall feel when creating a contemporary space. More often a place of indulgence rather than convenience and practicality.
These types of bathrooms often work well in self-builds, barn conversions and city-living spaces.
Typical traits of a contemporary bathroom
Glamorous lighting/mirrors
Unique interior design
Places of indulgence
Made-to-order bathroom products/artwork
Large open spaces
Premium design and technology
---
Traditional Bathroom Styles
Traditional bathroom spaces usually consist of s 'homely' or 'lived' in style. The classic 'shaker' style bathroom is often used in traditional spaces. Typically woods and ceramics are used in bathroom materials alongside acrylic baths. Bright or pastel shades create warmth and tiles bring convenience and practicality to bathroom spaces. Lighting, soft-furnishings and practical storage create a traditional bathroom space.
These types of bathroom styles typically work well in farmhouses, cottages, period properties and family homes.
---
Typical traits of a contemporary bathroom
Storage solutions
Shaker style
Woods and ceramics
Home furnishings
Floor and wall tiles
For all of your bathroom products be sure to check out our shop here: for premium products at competitive prices.