How to correctly clean your bath
Cleaning the bath is often seen as a dreaded task, however challenging, it's important to make sure you're doing it right! Maintaining the surface and look of the bath will make it easier to clean in the long run and leave you with a tub that always looks sparkling clean. There are many misconceptions when it comes to cleaning an acrylic bathtub, such as what type of cloth and products give the best results. Follow our guides below to ensure your new bathtub stays the star of your bathroom.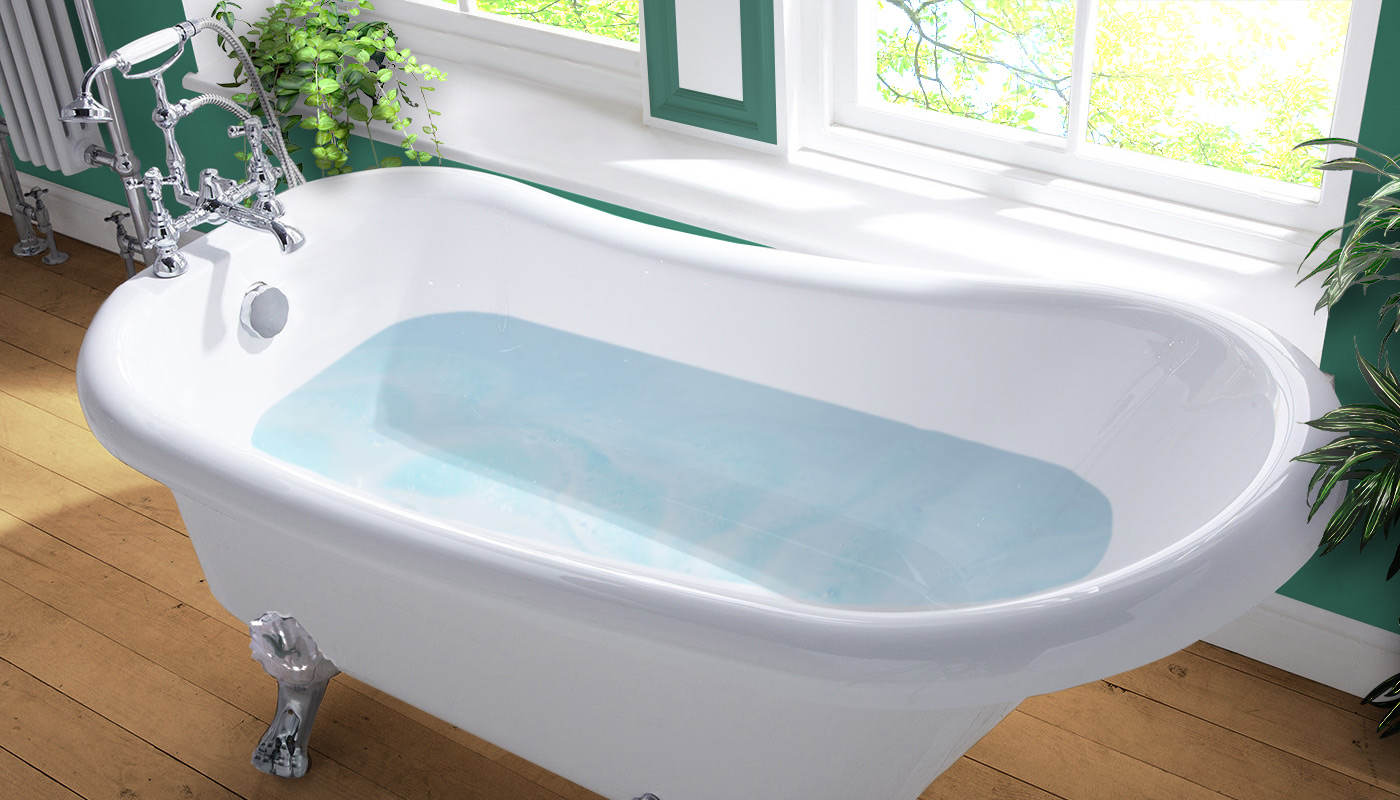 -
1. This should be carried out as soon as the water has drained from the tub, whilst the bath is still warm, as this will help remove any grease.
2. Make sure that you use a sponge or soft cloth, ideally a microfiber one. Don't use anything rough as this can cause scratches to the bath surface.
3. Be sure to use a gentle cleaning solution. This mustn't contain bleach of any sort, so be sure you read the labels on the big brand cleaning sprays. The best solution is to use is washing up liquid and warm water, as this creates a lovely bubbly solution. Which are essential for removing any grease or grime without too much elbow grease.
4. Once the bath has been washed all over rinse thoroughly with clean water until all the suds are gone. This will prevent soap marks showing up when the bath is dry.
If your bathtub needs a deeper clean -
1. A cream cleaner such as Cif, is best used if you've got yourself into the situation where your bath has evidence of built up soap scum and stubborn stains which has left it needing a deep clean. You will want to make sure the bath is completely dry before you begin.
2. Apply the cream cleaner to your sponge and gently work into the surfaces. You may need to scrub a little firmer on stubborn marks, such as around any dirt or water scum marks. You'll know your finished when the bath is covered in a powdery coating.
3. Thoroughly rinse the bath with warm water. You may find that you need to give the bath a wipe down as you go, just ensure all reside of Cif has been removed. Once rinsed you'll be left with a sparkling clean bath.
Chrome wastes and taps -
The chrome details on your bath will very easily show up water marks if these are not wiped down after every use. When you get out of he bath, or shower, if yours is over your tub, use a soft cloth to wipe any water drops from any chrome accessories.
If you have jumped out quickly and forgotten to do this vinegar is your friend. Choose a distilled white vinegar, rather than the one you pop on your chips (although this can be used if its all you have), dilute with hot water and a dash of bicarbonate soda/powder. This makes the perfect natural cleaner for your bath taps, shower head and bath wastes and overflow. It will bubble up and remove any built up limescale and water stains. Just remember to wipe down with a cloth when your finished cleaning.
Matt Black wastes and taps -
If you've chosen a matt black look for your bathroom, you'll need to be extra careful when it comes to cleaning. Any harsh cleaning product will cause the coating to become chipped or damaged. We would only recommend you use water and a soft cloth on this finish of bath waste and tap.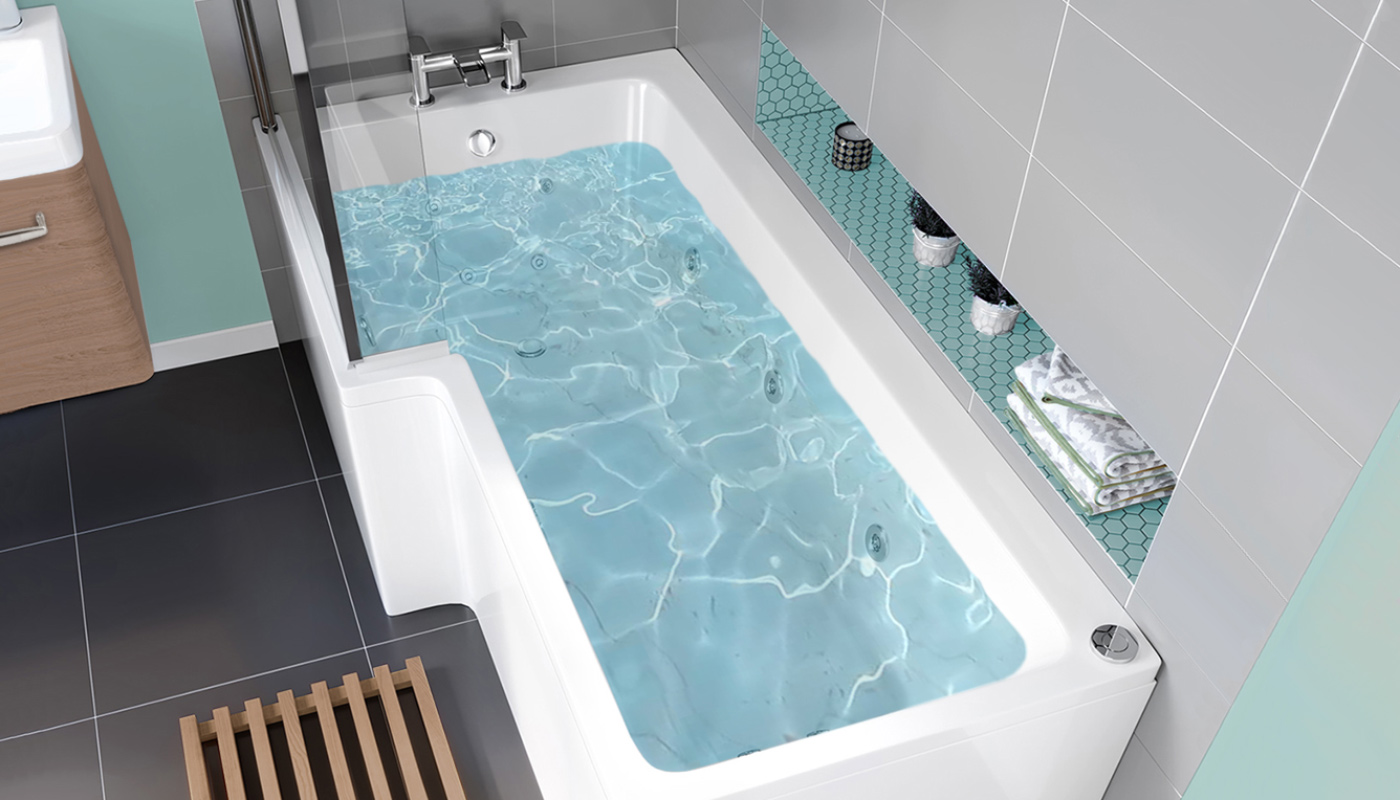 Whirlpool baths can be a little trickier to keep clean as you have to make sure that you're not only cleaning the surface of the bath but the pipework and jets too.
1. It is important that you wipe down the bath including, jet covers and suction cover with a soft damp cloth after use to remove any grime or soap residue left in the tub.
2. There are different methods depending on the type of whirlpool you have. Cleaning a standard system you need to ensure the suction filter remains clear of soap, hair and any other debris. If it is not clear you can remove the cover by undoing the screw to clean. If you have a vortex system place your hand around the chrome disc in the base of the bath and pull firmly upwards to ensure three is no soap, hair or other debris. This should be done after every use.
3. Cleaning the pipework regularly is essential to the running of your whirlpool. This should be carried out on a monthly basis. It is recommended that you use the Whirlpool Cleaner and in addition a sterilising fluid, such as those used for sterilising baby bottles.
Also, if the bath is left for a period of time without use (such as a holiday) it is advised that you sanitise the bath (step 3 above) after the last use and again before you use it again, as this will ensure the pipes are clean.
Things to avoid -
1. NEVER and we mean never use bleach on your bath. This may leave your bathroom smelling incredibly clean but it will be causing damage the surface of your bath.
2. Also, NEVER use an abrasive cleaner or any products containing bleach on your taps. The nice chrome, black or whichever stunning finish your taps have can easily chip off the brass body. Using chemical heavy products will speed up the discolouration process and will void your guarantee!
3. Fond of a pamper in the bath? take extra care when products containing ammonia especially when using nail polish remover (acetone) near your bath. Surface damage is easily caused as a result of these substances coming into contact of the bathtub.
4. Certain hair dyes and bath bombs can cause dis-colouration and harder to remove bathtub stains. It's important, therefore, to always make sure you rinse your bath straight after using any of these. You can use the diluted vinegar solution in a spray bottle straight away on the surface of the bath. If you do notice any colour spots add some bicarbonate of soda to the area and spray on some of your white vinegar solution. This will bubble up and help remove the stains straightaway.
We hope that this guide will forever change your bath cleaning habits and help with keeping your bath as shiny as day one. What is your favourite bathroom cleaning tip? We'd love to her them in the comments below.
If you have a tub that has seen better days and would like to discuss new bathtub options, please give the team a call on 0845 271 9929 or chat online between 9am and 5pm.